General Engineering
Typical Applications:
Sliding elements

Chain guides

Bearings

Bushes

Sprockets etc.
Lining for "Bulk Materials Handling"
Applications - Linings for:
Bunkers

Silos

Bins

Chutes

Rail & Roadtruck
Unit Material Handling and Conveying Industries
Applications:
Guides and sliding rails

Wearstrips

Single and multi track curves

Starwheels

Tension and deflecting rollers

Infeed screws

Sprockets

Scraper blades

Sizes available:
Ultra High manufactures press finished 4000 x 1000 lining sheets in thickness ranging from 10mm upwards. For ease of handling sheets are usually cut in 2000mm x 1000mm sizes. ULTRA HIGH manufactures slit finished approximately 1950mm x 950mm lining sheets in thickness from 3mm to 10mm.
Optimum size:
TIVAR lining sheets because of their weight, have a significant advantage over many other lining materials as they can be installed in large sizes such as 2000mm x 1000mm, thereby minimising flow obstruction joints.
Other Applicaions:

Applications:
Suction Box Covers

Foils

Forming Boards

UHLE Box Tops

Sealing Strips

Doctor Blades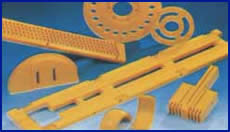 Paper Industry
Poly Hi Solidur's machined wet and dewatering components have been widely used in the Paper Industry in over 40 countries for many years. Specialised purpose built equipment is utilised for the manufacturing of world-class products for the paper industry. Specially developed and patented grades of UHMW-PE include
Solidur DS

Ceram P

Solidur Supe